Senior Dining Association "Hindsight on 2020" featured Adam Lamb, Director of Dining Services at Deerfield. With COVID-19's disproportionately high impact on those 75+, it goes without saying that the senior living industry has likewise felt the brunt of this pandemic.
As Director of Dining Services, Adam and the Deerfield team came up with innovative programs throughout 2020. From Grab and Go meals, to a reusable container system to reduce waste and Fun Fridays surprise deliveries, the Deerfield team worked hard to restructure their operations with new protocols and fresh approaches for residents during the pandemic.
"We learned a lot in 2020 – and found creative, innovative, and work-around ways of coping and providing new services and experiences." — Adam Lamb
A Sense of Mission and Purpose
"I've never worked with a group of people who could so quickly pivot an entire operation after running pretty much the same since the early 80s," Adam said, referring to the way Deerfield responded 'on a dime' to change in protocols. "After years and years operating under iterations you thought would never change, everything had to change – in an instant," Adam said. "To see everyone come together and become singularly minded to a particular objective was amazing."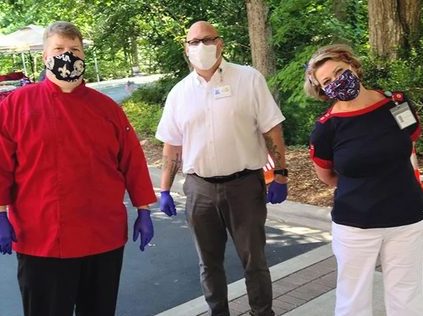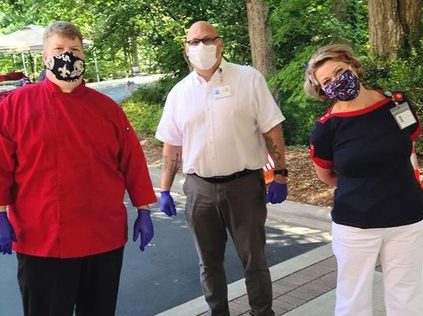 Sustainability Here to Stay
Deerfield implemented a successful reusable container system by heightening awareness of landfill overflow caused by Styrofoam and other disposable food containers in 2020.
Deerfield's resident Sustainability Committee is passionate about changing practices that endanger our environment. Their purpose is to heighten awareness about the growing amount of Styrofoam, paper, and other non-recyclable take-out containers going into landfills – and the cost for using them. When the pandemic required dining rooms to close and meals to be in takeout containers, the growing data surrounding landfill use and costs for Styrofoam became a big topic of conversation.
Fun Fridays: Something Giggly and Unexpected
Soon after Deerfield shifted to the delivery-only model, Adam and his team came up with Fun Fridays, surprise deliveries. Deerfield purchased beverages and foods from Asheville establishments – to give residents a renewed connection to their community and support local businesses that were struggling economically.
It not only lifted residents' spirits, but also staff who had the opportunity to help out and see residents again. Deerfield plans to continue Fun Friday deliveries as much as possible due to its popularity.

Outside-the-Box Innovations Moving Forward
"We will continue to do everything we can to keep our residents active and engaged and our team motivated and cared for – no matter what conditions we face moving forward," Adam said.