The passionate pursuit of an active retirement
Deerfield Episcopal Retirement Community's innovative Health and Wellness Center is a vibrant hub of activity. It featuresa beautifully appointed "Riverwalk" offering a café and deli with flexible dining hours, as well as an arts studio, a fiber arts studio, a pottery kiln, and classroom, and expanded weight and aerobics studio adjoining the Aquatic Center and a day spa.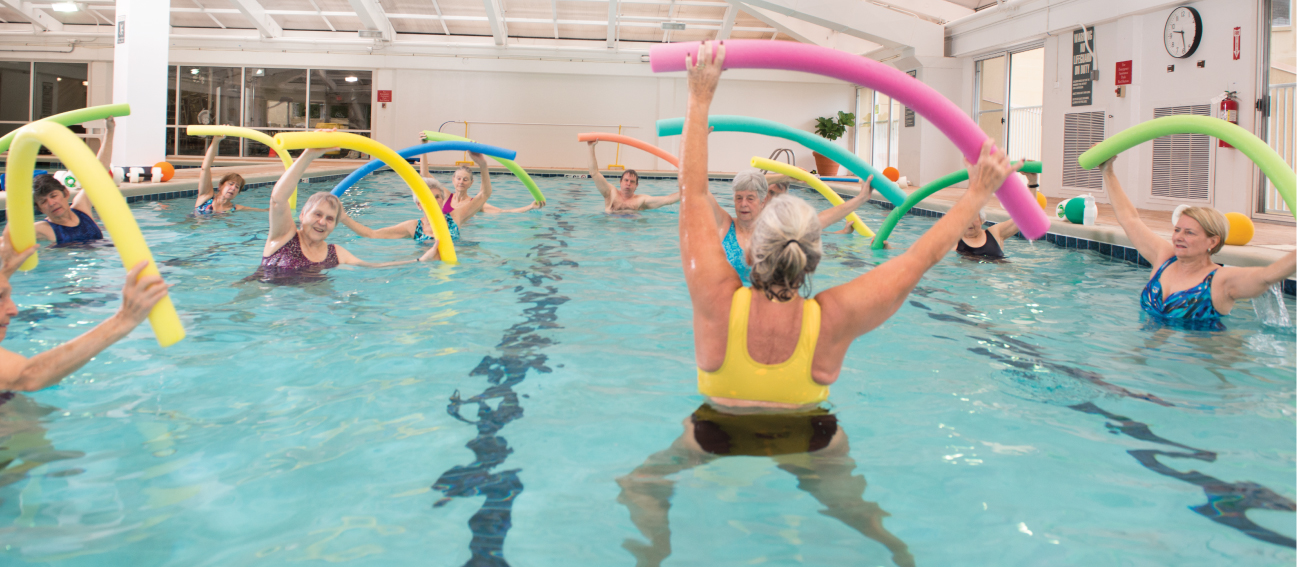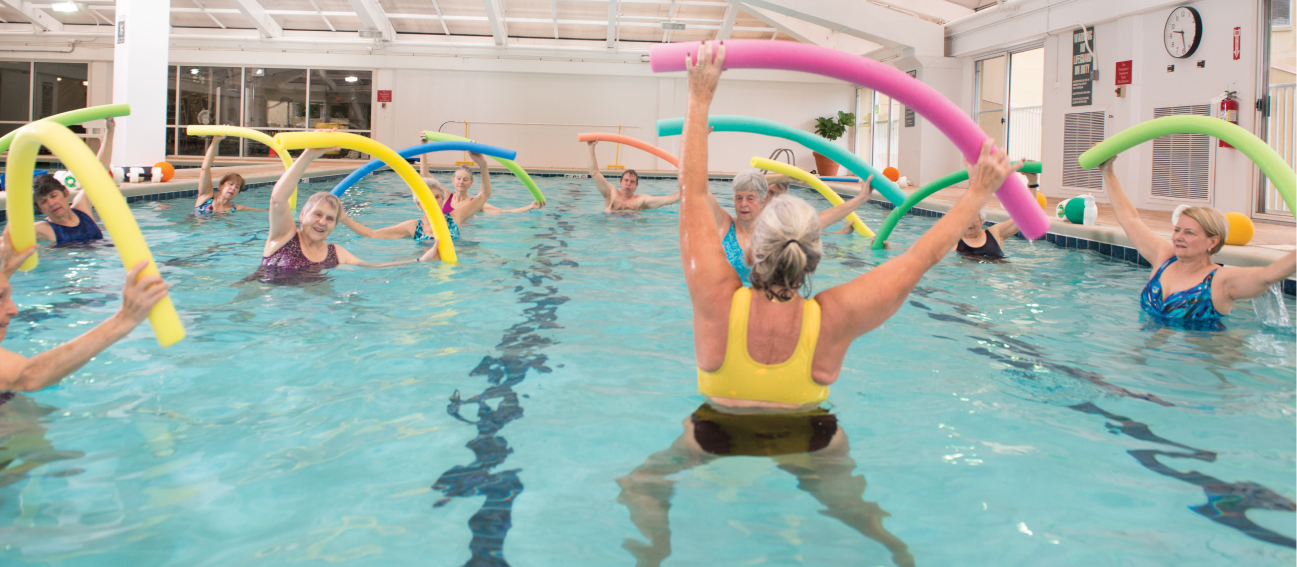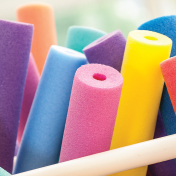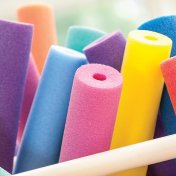 Aquatic Center
The Aquatic Center is our state-of-the-art, 20,000 square-foot glass-enclosed facility providing beneficial year-round therapy and social relaxation. The facility consists of both a 25′ x 60′ lap/aerobics pool and a 25′ x 35′ warm-water therapy pool. The therapy pool provides easy access for residents of all levels of care by utilizing a ramp, hydro-jet benches, and safety railings.
The center offers lap swimming, warm-water aquatic therapy and water aerobics classes on many levels. Our fitness room features user-friendly equipment and one-on-one training consultation. We offer classes in yoga, tai chi, stretch and tone, Pilates, dance, as well as weekly guided hikes.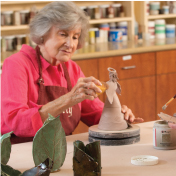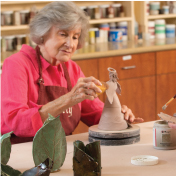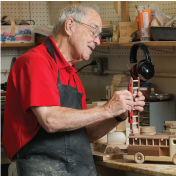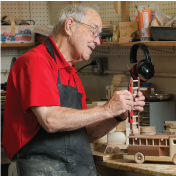 The Arts Program
A thriving part of the Deerfield community, our light-filled arts studios provide residents with the opportunity to discover and develop creative abilities.
Our active, resident-managed Arts and Crafts League's mission is "to promote interest in the arts and to offer personal development opportunities to artists, crafts persons, and art appreciators within the Deerfield community."
providing educational and development opportunities in pottery, fiber arts, photography, drawing, painting, multi-media art, and woodworking, both on- and off-campus.
providing space and the environment needed to carry out its mission.
fostering a supportive community of artists and crafts persons within Deerfield that is inclusive of all skill levels and interests.
promoting the arts throughout the entire Deerfield community through on- and off-campus programs, displays, and scheduled art and craft shows.
Each year, Deerfield hosts the "Best of Deerfield" Arts Show and Exhibit, which is open to the public.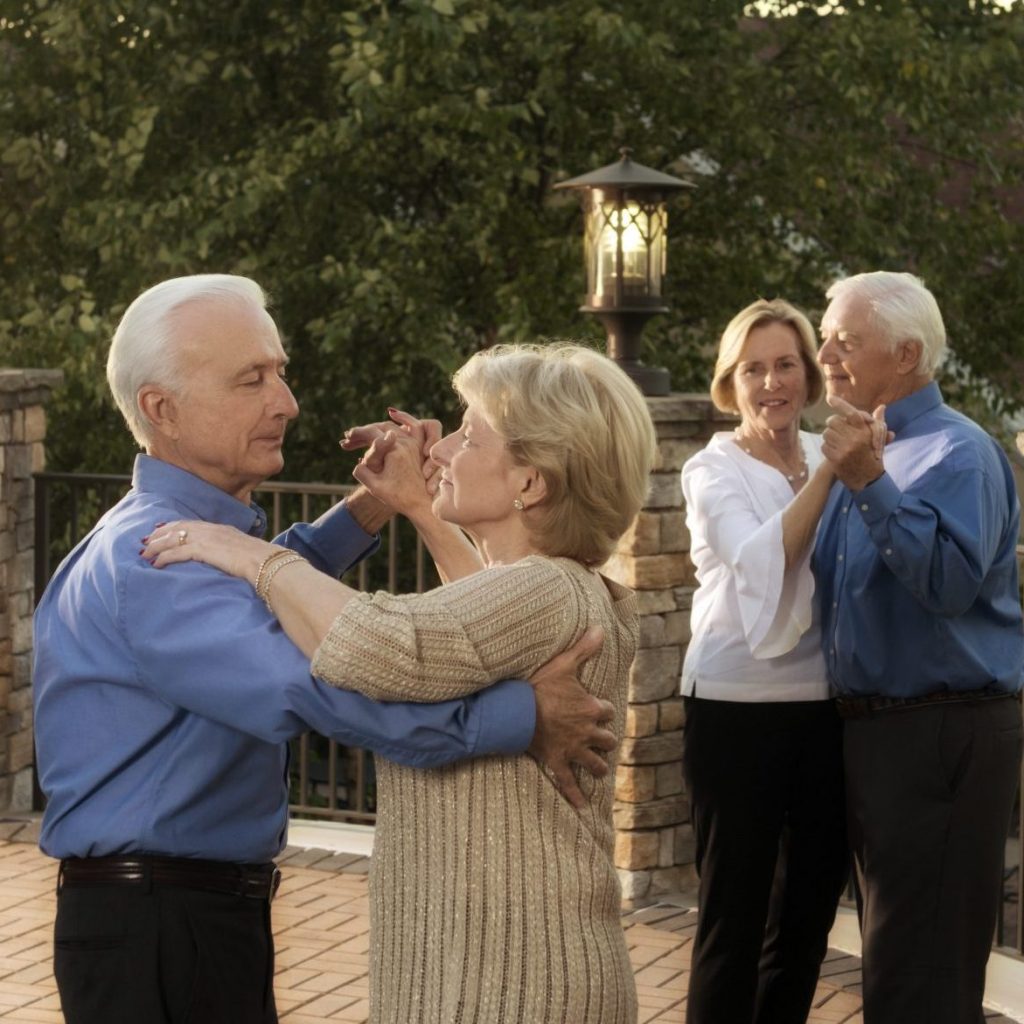 Lifelong Learning
Deerfield residents' diverse interests are reflected in the broad range of classes offered on our campus. You'll find interest groups with such varied topics as art, dancing, books, investing, pottery and woodworking to name just a few. Educational programs include: lecture series, classes in conjunction with The Center for Creative Retirement, history club, photography club, art exhibits, pottery offerings, environmental programs, world affairs council, health and wellness expos, and book clubs. Fitness classes include Tai Chi, Pilates, and yoga, and the Aquatic Center offers a range of swimming and water-fitness classes weekly.
"One of the many things that sold me on Deerfield was its studios and appreciation of arts and crafts – and not in a summer camp way.  The leadership team is serious about art and fine craft, and they support the many artists who live here in their endeavors."

Laurel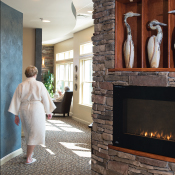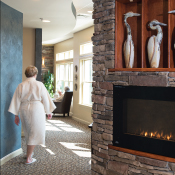 Riverwalk Spa
Refresh…Relax…Rejuvenate. Surrender your world to the tranquil care of The Riverwalk Spa. Nestled in cozy elegance, you will find our spa provides an environment of privacy and the personal attention that you deserve. Your worries will be left behind as our friendly professionals whisk you into an aura of peacefulness. Whether being soothed by a relaxing facial, massage, manicure or pedicure, we guarantee you will leave feeling refreshed, relaxed and rejuvenated.
For a complete list of treatments & services: Download a Riverwalk Spa brochure.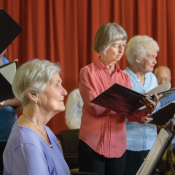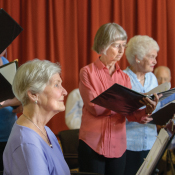 Social Programs
At Deerfield there's never a reason to have nothing to do, unless that is what you desire! Our residents find fulfillment both within our community of Deerfield, as well as the community at large with abundant opportunities for social, spiritual and educational interaction.
Deerfield residents also serve the Asheville community by volunteering their time and talents to serve on local boards, build houses for Habitat for Humanity, deliver Meals on Wheels and offer assistance at The Council on Aging, housed at St. Giles Chapel. Wednesday Rotary Club meetings at Deerfield provide another opportunity for service.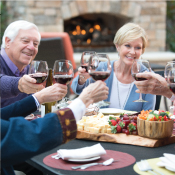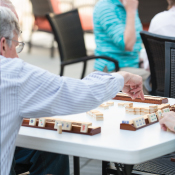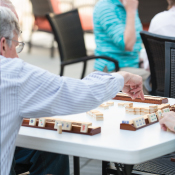 Social Events
Deerfield provides transportation to events and performances at Flat Rock Playhouse, The Asheville Symphony, Asheville Chamber Music Ensemble, Asheville Choral Society, Asheville Community Theater and other arts and cultural happenings.
Members of the Deerfield community enjoy a variety of activities. Special entertainment events are also planned monthly on Deerfield Day, often in conjunction with a theme dinner at one of our dining venues, The Bistro. Other events include new resident receptions, birthday celebrations, and a host of others.
A sampling of social events and activities:
Men's and Women's Poker
Duplicate and Social Bridge
Croquet
Bocce Ball
Men's "Whatcha Think Group"
Concerts (both at Deerfield and in the Asheville area)
Support groups
Musical groups
Lecture series (a variety of social, health & wellness, and historical offerings)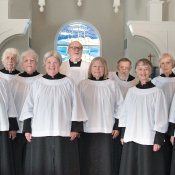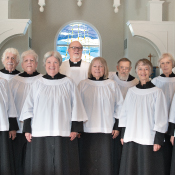 Spiritual Programs
Richard Lindsley Walton, Jr., our Director of Pastoral Care and Episcopal Priest, conducts services at St. Giles Chapel every Sunday at 11 a.m. and in the Health Care Chapel at 9:30 a.m. Services are also held on Wednesdays at 11 a.m. in the Health Care Chapel and 4:30 p.m. in the St. Giles Chapel. Our second full-time Chaplain, Tonya Hill is dually affiliated with United Methodist and Cooperative Baptist, and has extensive clinical training in pastoral care. She leads special worship services, and shares Father Lin's duties of pastoral care and visitation.
The beautiful St. Giles Chapel is open daily from 9 a.m. to 5 p.m. for contemplation and prayer, and hosts a prayer group meeting weekly. Adjacent to the Chapel is the Memorial Garden, where paths wind through native rhododendron to a gentle waterfall and unadorned benches – perfect for listening to bird song or quiet meditation.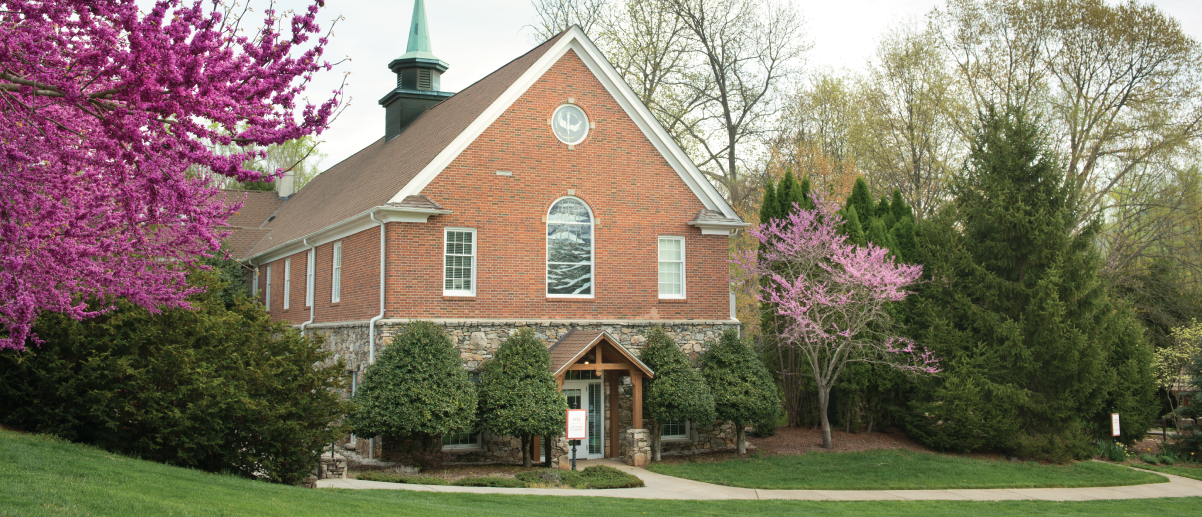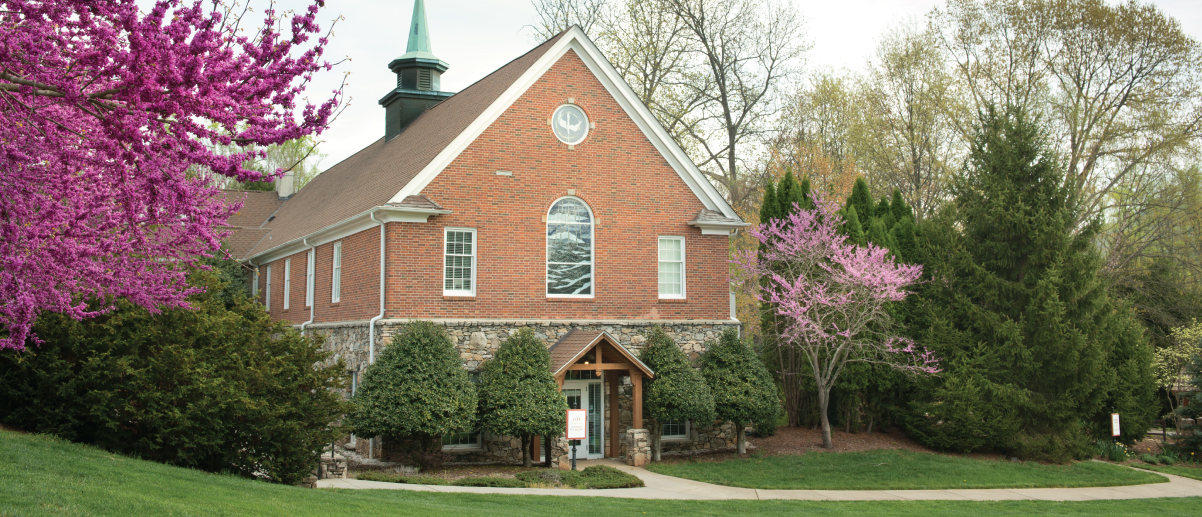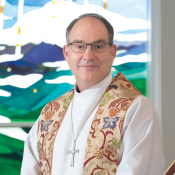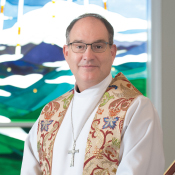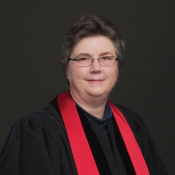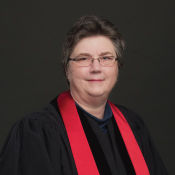 St. Giles Chapel
Deerfield is blessed to be one of the few retirement communities in the nation that includes a free-standing chapel on its campus. The Deerfield community is served by two professional chaplains. The Rev. Richard Lindsley Walton, Jr. is an Episcopal Priest; Chaplain Tonya Hill has extensive clinical training in pastoral care. Both are trained specialists in pastoral care for seniors.
St. Giles Chapel is located on the Grand Lawn near the front entrance of Deerfield and has undergone extensive renovations, thanks to the generous contributions of many residents and friends. This spacious renovation gives ample room for our growing population to attend and worship each week. Sunday and Wednesday services are held in the Chapel, as well as in the health care facilities of the community. The Chapel is affiliated with the Episcopal Diocese of Western North Carolina and is the chapel for all of Deerfield. While Sunday morning ministry of the chapel is offered according to the rites of the Episcopal Book of Common Prayer, the Chaplains and the Chapel Committee seek ways in which the worship can be inclusive of other traditions to reflect the rich religious diversity of our community. Anyone who wishes to claim their church membership in St. Giles Chapel is welcome to do so. One does not have to be a member of the Chapel to participate in the worship or other programs offered there. The ministry of the Chapel and the chaplains exists to support and affirm our resident's spiritual commitments, not compete with them. Residents are also encouraged to maintain their faith affiliations through membership in any of the area's many religious congregations, or use the Chapel in any way they find helpful and meaningful.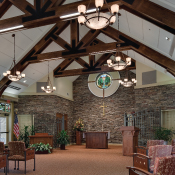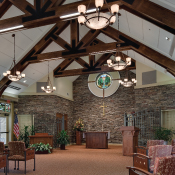 Health Care Chapel
The Health Care Chapel, located on the ground floor of Haden Hall, is uniquely designed to suit the needs of residents in assisted and skilled living. Plans and funds for this facility were the result of St. Giles Chapel Committee's six years of dreams, prayers, and hard work. Adjacent to the Health Care Chapel and beckoning through its windows, the Flower Garden has a pergola, benches, and raised flower beds and plants. Like its Chapel, the garden has ample space for residents and for walkers and wheelchairs.
MAHEC
Deerfield is indeed fortunate to have joined forces with MAHEC (Mountain Area Health and Education Center) to provide Deerfield residents with on-site physician care through MAHEC's Family Medicine Program. MAHEC is a member of the North Carolina AHEC system, one of the oldest and most extensive AHEC systems in the country. Through this program, residents have access to a team of providers, including a nurse practitioner and two physicians. The Deerfield Clinic is staffed five mornings a week, Monday through Friday.
Meet

Our

Residents

Name: Claire
Originally from: Illinois via Baton Rouge, LA
Moved from: Horse Shoe, NC (near Hendersonville)
Retired: Systems Analyst for Baton Rouge Water Co.
Interests: Gardening, Pottery, Needlework
Deerfield Favorites: Skilled Nursing Raised Beds Garden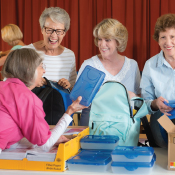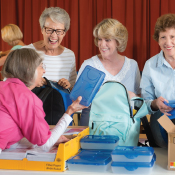 Volunteering
Volunteerism is a vital component of Deerfield life, as residents help both within the Deerfield community and in the greater Asheville area as well. Residents freed from the responsibility of house and yard maintenance, as well as major meal preparation have time to devote to those activities that bring true satisfaction.
Among the many personal fulfillment opportunities for service to others at Deerfield is the work of our volunteers in Sophie's Closet, where the items residents no longer need in their new quarters can be resold for the benefit of the Residency Fund that supports those who outlive their financial resources. Daily we are appreciative of the Bring Love to Table (BLT) residents who provide fresh flower arrangements in our Bistro and Café. Volunteers help in Assisted Living and Skilled Nursing, as well as supporting our Marketing Department in a number of significant ways. Residents also support the Danny Boone Scholarship Fund for Deerfield employees to pursue studies in fields related to elder care. Development and maintenance of trails throughout the community's 125-acre campus have also been a significant contribution of residents.
The Deerfield philosophy includes "resident participation in church, civic, educational and charitable endeavors both within and without Deerfield is encouraged." Our active Residents Council maintains and enhances our quality of living at Deerfield in significant ways and encourages volunteerism.