Aquatic Center
The Aquatic Center is our state-of-the-art, 20,000 square-foot glass-enclosed facility providing beneficial year-round therapy and social relaxation. The facility consists of both a 25′ x 60′ lap/aerobics pool and a 25′ x 35′ warm-water therapy pool. The therapy pool provides easy access for residents of all levels of care by utilizing a wheelchair ramp, hydro-jet benches, a chair lift, and safety railings.
The Aquatic Center offers lap swimming, warm-water aquatic therapy and water aerobics classes on many levels.
Fitness and Aerobics Rooms
Our fitness room features user-friendly, state-of-the-art equipment and one-on-one training consultation. A mirrored aerobics room hosts classes in yoga, tai chi, stretch and tone, Pilates, and dance. Weekly guided hikes are a popular outdoor activity.
Outdoor Fitness Stations
The Outdoor Fitness Park was installed in 2016 and includes four exercise stations designed by Greenfields Outdoor Fitness.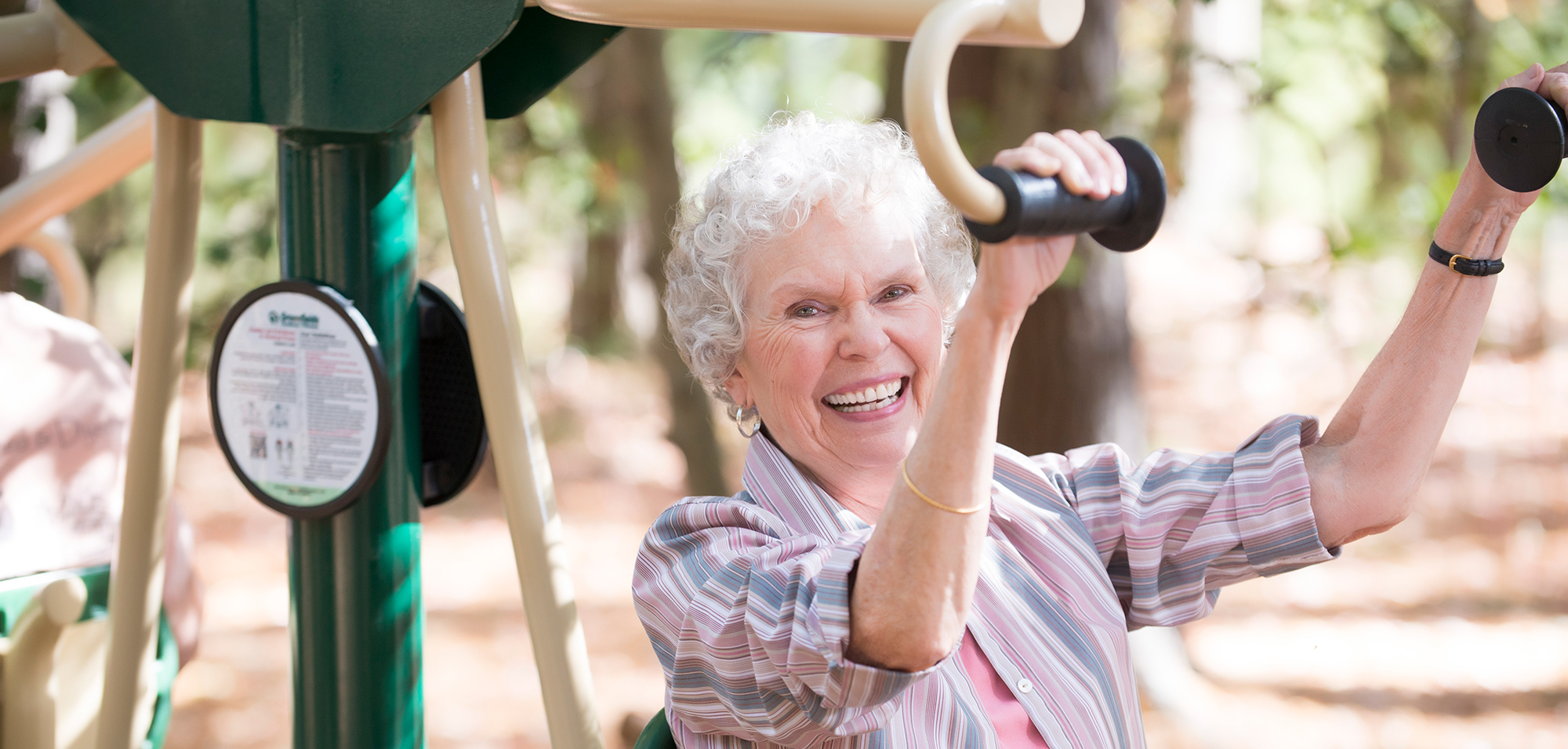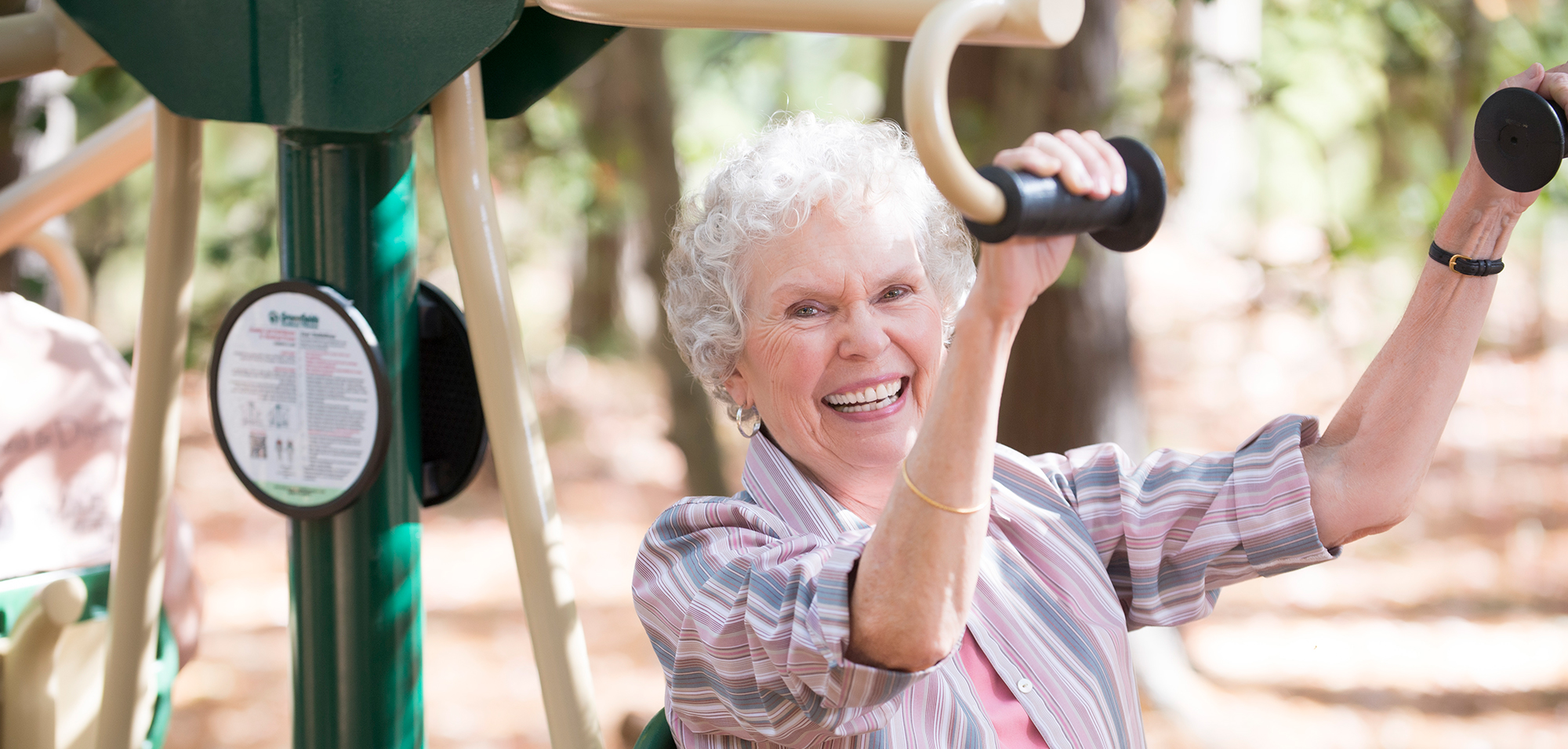 Croquet Court
Below our Aquatic Center, Deerfield is fortunate to have a regulation six wicket, artificial turf croquet court. We are home to an active, 75+ member Croquet Club, open to all residents, and sanctioned by the U.S. Croquet Association. The club hosts two tournaments a year. In 2001, a generous donation from a resident enabled Deerfield to construct the croquet court. Buzz Lee was a leading player in the U.S. Croquet Association and brought his passion for the game to Deerfield, where our court is named in his honor. The all-weather, year-round court was completely refurbished in 2015 to tournament standards.
"We love everything about Deerfield. It brings peace to our children that they do not have to worry about us. So many things to do and great people!"

Jean & Ted
Riverwalk Spa
Refresh…Relax…Rejuvenate. Surrender your world to the tranquil care of The Riverwalk Spa. Nestled in cozy elegance, you will find our spa provides an environment of privacy and the personal attention that you deserve. Your worries will be left behind as our friendly professionals whisk you into an aura of peacefulness. Whether being soothed by a relaxing facial, massage, manicure or pedicure, we guarantee you will leave feeling refreshed, relaxed and rejuvenated.
Riverwalk Spa Staff
Laurel Brewer received her training from The Center for Massage and Natural Health in Asheville, NC, and graduated in 2001. Laurel spent the next 13 years building a successful practice in Miami Beach, FL, before returning to Asheville in 2015, and joining the Riverwalk Spa as a full time massage therapist. Her role was expanded in early 2017, and thus, in addition to her duties as a therapist, she serves as the Spa Director. With a foundation in therapeutic modalities such as deep tissue and acupressure, Laurel also integrates relaxation techniques, aromatherapy, hot and cold stones, or traditional Thai massage to customize her treatments.
Phil Ramsey, licensed Acupuncturist, holds advanced degrees in Chinese Medicine, as well as Marriage and Family Therapy. Phil has been a psychotherapist since 2000, and began practicing Chinese Medicine after graduating from Daoist Traditions College in 2007. Utilizing the various modalities of Chinese Medicine, Phil treats pain and orthopedic conditions, insomnia, depression, digestive, cardiac, and pulmonary issues.
Judy Cody, a licensed Cosmetologist with over 25 years of experience, describes herself as someone with "a big heart for seniors". Judy has been the lead nail technician with the Riverwalk Spa since 2014, and in addition to manicures and pedicures, offers facial waxing, lash/brow tinting, and paraffin treatments to soothe and soften the skin.
Mary MacGregor is a licensed Esthetician, an LPN with over 40 years of experience, and a certified Healing Touch practitioner. Specializing in the care of mature skin, Mary brings her considerable knowledge regarding the specific qualities of aging skin, the products and treatments which best address these qualities, and therefore, provide the greatest benefits.
Meet

Our

Residents

Name: Mel
Originally from: Sedalia, Missouri 
Moved from: Madison, Indiana
Retired: Medical Doctor, Radiologist 
Interests: Wellness, Fitness
Deerfield favorites: Beautiful Campus, Resident Family, Awesome Administration Leadership and Staff.