On Wednesday, May 20, Governor Roy Cooper signed Executive Order 141. This order propels North Carolina into the second phase of a tempered and deliberate easing of restrictions on travel, business operations, and mass gatherings. "Safer at Home" Executive Order 141, effective May 22 at 5pm, lifts and replaces the preceding "Stay at Home" Order 138.
The order reads that all people 65 years of age or older (or who are otherwise considered at high-risk for severe illness from COVID-19) are "strongly encouraged to stay home and travel only for absolutely essential purposes." For older adults and other citizens at high risk, that statement is intended to supersede succeeding aspects of the order. The word 'travel' is not referring to leisure travel and tourism, but rather to any movement outside of one's home.
Deerfield's COVID-19 response team remains cognizant of our special situation as a CCRC with high-risk resident and staff populations. Due to increasing cases in Buncombe County, Deerfield's policy does not mirror Executive Order 141.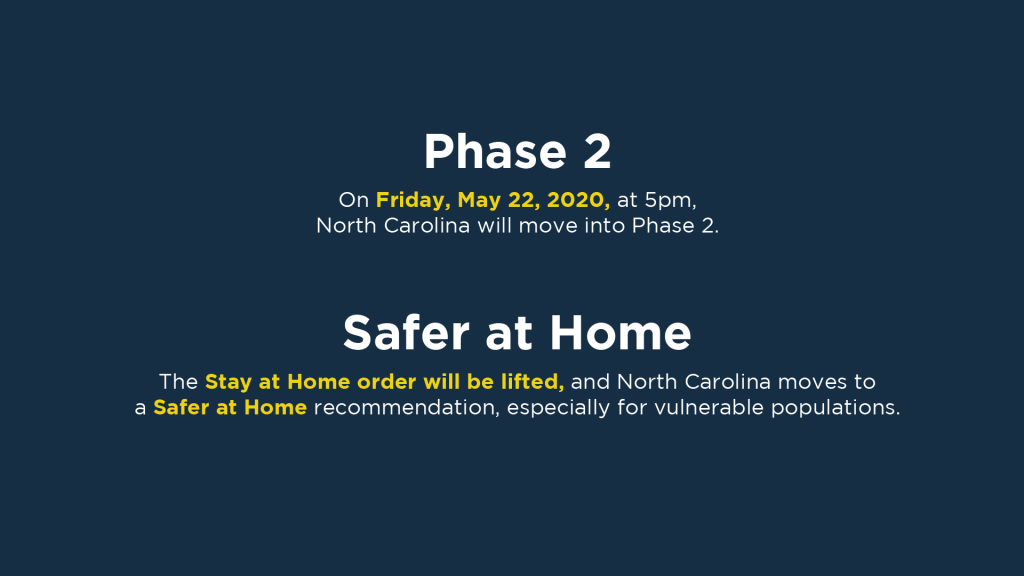 Deerfield's response to Executive Order 141 is as follows:
• Riverwalk Café and Bishop's Bistro will remain closed and daily delivery of the lunchtime meal will continue.
• Aquatic Center will remain closed.
• Riverwalk Spa and Salon will open, with reduced capacity and special infection control measures in place, for nail and hair services only.
• Residents will not be permitted to hold gatherings in indoor spaces, regardless of the number of participants, efforts at social distancing, or mask wearing.
• Our residents will continue to be permitted to gather for outdoor social get-togethers of ten persons or less as long as participants maintain a distance of at least 6 feet from one another and face coverings are worn at all times.